The shopworn cliche is "I am the proud mother of two daughters." It is true, but it hardly says enough. My daughters are people in their own right, even Typha who at sixteen months, is not particularly verbal. The girls have their own wants, temperaments, and personalities. My girls are smart, as resilient as one can reasonably expect small children to be, and reasonably healthy. I have also been lucky to find pretty decent day care for both of them so I can continue working. So...let me tell you about my daughters....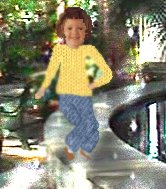 CALTHA was born March 2, 1997. Her name means "yellow flower" in Greek. Her favorite colors are red and yellow. Her favorite foods are boysenberry yougurt, asparagus, cauliflower, red bell peppers, and salmon salad. She enjoys walking up the smooth metal part of the old fashioned metal slide at the elementary school playground near our home. She has not yet learned to ride a bike without training wheels. She can recite the alphabet and has started learning to read. Caltha spoke several months before her first birthday, and she takes after her English professor father. She enjoys watching the teachers at day care mix up the play dough from flour, water and vegetable coloring. She will not let Typha use her crayons, though she shares most of her other toys. Her goal is to see that her younger sister learns to "talk good."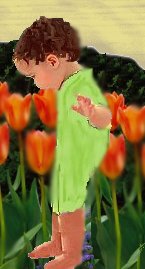 TYPHA was born January 4, 2000. She missed being a millenium baby by less than a week. I am kind of glad of that though. Typha is Greek for cat tail. She has been walking since she was eight months old though she has only really been speaking for the past two months. Jacob and I had tubes put in her ears last winter for middle ear infections that she kept picking up. Typha is also left handed like I am. Her favorite foods are strawberry yogurt, winter squash, my tuna paella, cream of mushroom soup, and Pepperidge Farm lindser cookies. Her favorite thing to do is take off her shoes and pants. She hasn't mastered shirts and sweaters yet, but that day will come. Typha will undress anywhere. This isn't so bad now that the weather has gotten warm, but it does drive her day care teachers nuts. For a while Typha was eating crayons. Thankfully they are nontoxic, but they also belonged to her older sister who now will not let Typha near them.
Note: the photos on this page did not scan well. Jacob, my hsuband, scanned them and then to improve them, I retouched them in PaintShop Pro. I fear I may have done more harm than good. Caltha's picture was taken when we went back east last winter to visit our parents. It was shot in the conservatory at the New York Botanical Gardens. Typha's picture was taken in front of a large mural. I apoligize for the poor photo quality. I will try to find some better pictures and scan them myself.
Back to the top of the page.