This is the unofficial Thadea Myers fan club site. Yeah, I'm Thadea Myers but this is a shoe string operation so I put up my own fan club site. Well, this way, I see to quality control and everything is authorized.
Thadea drives number Square Root of Negative One for the Golden Elite Nascar team. When she isn't voting for her team mates or herself or out looking for new supporters, Thadea likes to cheer and donate cheers to her team. So far Thadea has never crashed and burned, but if she does, she gets to try again next week. Contrary to popular opnion, the Imobile is not held together with chewing gum and paper clips. Thadea prefers wheat paste and bailing wire.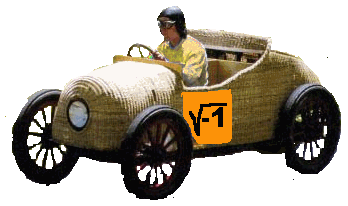 Here is Thadea in her famous Imobile. This innovative racer features a genuine wicker body, an engine, and four tires, plus the aforementioned wheat paste and bailing wire. It has done speeds faster than a speeding bullet even if the racer is not more powerful than a locomtive. It does not leap tall buildings in a single bound either, but it's a racing car, not an airplaine. Anyway, Thadea is not afraid to come in second place now and then. She, however, definitely prefers first place any day of the week.
Here are some of the awards Thadea has won so far.
Thadea's Bio
Thadea was born to two parents in Evanston, Illinois. No she was not hatched. She even managed to graduate from the University of Illinois Urbana-Champaign. She has a husband named Jacob and two daughters named Caltha and Typha. All of them occasionally resent her devotion to the track but they also help mix up the wheat paste and string the bailing wire to keep the Imobile patched up and road worthy. Thadea says "my family is a racing family. It's in the blood, and we all love it at the Golden Elite."
Cheer Sonnet #2

Let me improve cheering's quality
Break free o quatrain rhyme's
Dank prison. Perhaps it's time
For a sonnet and some originality.
Bringing to the track's gritty reality
Where NASCAR'smean machines o sleek design
Race toward the checkered victory sign
NASCAR team embracing the totality
Of putting their all
On to the long straight road
Where motors roar!
NASCAR's speed and power shows
That for others, defeat is what's in store.
Cheer Sonnet #1

With the roar of engines blazing
NASCAR racers lying down the track
Other team's ighters see only our backs
As they say "That NASCAR team is just amazing!"
And we cruise rom lap to lap just fazing
Our opponents whom we cut no slack
And if by chance we should look back
We still them still as cattle grazing.
They blend into the scenery
Perhaps they marvel or wonder
As we pass them by
As along the road to victory
Our machines thunder
NASCAR is the best, you can't deny.